Nothing like waking up at 4am with a million things on our minds then reaching for the smartphone (we know, terrible thing to do) and see this message.  Full disclosure - only Ali does sleep-zapping shenanigans like this in the middle of the night!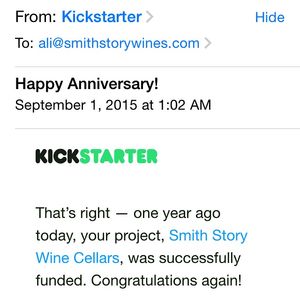 The email from
Kickstarter
hit us smack-dab in the face in the midst of worrying about our gigantic to-do lists and all the challenges of running a business. I mean there's just two of us and one works a full-time day job! Accounting, compliance, sales, marketing, grower relations, emails, warehousing, taxes, phone calls, distributor meetings, private tastings. Thank GOD we have winemakers Katy and Ross to take the weight off of us in the cellar...we are in the middle of Harvest 2015. 
We've said it a hundred times or so, but our feelings haven't diminished...we are so very proud, honored and grateful to our Kickstarter Backers and all the support they've given us over these first 12 months. Please take a quick minute to check out our Kickstarter Stars! 
http://www.smithstorywinecellars.com/2014-kickstarter
October 15, 2015 we're hosting the Kickstarter Film Fest in the heart of the Russian River Valley
Ok, so much to go on and on about right now, but damn that to-do list is growing by the minute!  Please continue to help spread the word about Our Story and THANK YOU.
What a year!
 - Eric and Ali