Alison "TexaCali Ali" Smith Story
President and Co-Founder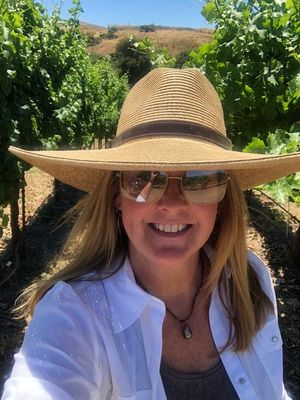 As the force behind Smith Story Wine Cellars, Alison Smith Story puts a heap of stock in the power of community. After a decade of running her Austin, Texas boutique sales and marketing firm for wineries and importers she was convinced there was room for a new winery doing things old school by frankly telling their true story and making incredibly delicious wine. Kickstarted.. with husband Eric in 2014, Smith Story is the first winery to be fully crowdfunded. "I'm still humbled that so many people believed in us well before we made a single drop of wine," she says. It seems to have paid off for all involved: the venture has rocketed to success, with a strong  fan base and tasting rooms in both Sonoma and Mendocino counties.
Smith Story Wine Cellars has been named "Where the Cool Kids Go" by Sonoma Magazine and featured by Wine Business Monthly as "The All American Wine Story". The network of comrades and "found family" these efforts have woven has been a strong one indeed. For her work, Alison has been named one of Sonoma Magazine's "5 Inspiring Wine Women" and in 2022 "Wines Most Inspiring People" by Wine Business Network.
Ali has most recently spoken as a leader of women in wine... at the Fortune Magazine Most Powerful Women's Conference, Unified Wine Symposium "Outsourcing Success" and the Wonder Women of Wine in Austin, Texas. You may often catch Ali sipping on single farm speciality coffee, meeting up with fellow goldendoodle owners, day dreaming of gardening on a sunny day when she's not behind her computer, tasting room(s) or zipping around in the Alitaxi. 
Socks for Sandwich...oh there's that too! The winery's second label, Lord Sandwich, funds the nonprofit Socks for Sandwich, which Ali founded and since November of 2014 has donated tens of thousands of socks to people in need. 
Current Likes: Penny Royal Laychee Cheese, being the voice of Sandwich the Doodle, a good night's sleep, working on her upcoming podcast and anytime Mr. Story cooks dinner! 
Current Dislikes: airports, rental car lines, snotty wine people, the hours of 4am-7am. 
Current Favorite Quote: "The Biggest risk in life is NOT risking" Sara Blakley, Founder of Spanx. 
---
Eric "The Fun Parent" Story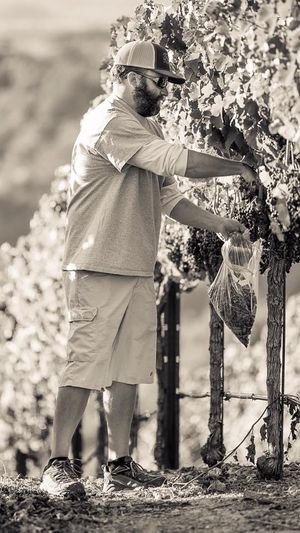 Winemaker & Co-Founder
The rock of Smith Story Wine Cellars from the very start. Eric continued his wine-buying position with K&L Wine Merchants until December of 2016 while working on his days off and nights for Smith Story. After joining colleagues in the early 2000s to plant the now "Nash Mill Vineyard" in the deep-end of the Anderson Valley he realized he needed to learn more about winemaking. This ah-ha moment led him to harvest positions with a dear winemaker friend in Germany. The same winery who helps us produce our German riesling and rosé that we import under Eric Story Selections. 
Today with five Smith Story harvests behind him, he's in charge of our winemaking and vineyard relationships. His attention to detail both in the cellar and of the vines has paid off with top-scoring wines with each release. Eric's in-depth and expert wine knowledge of the Loire Valley, Germany, Austria, Alsace, Greece and The Republic of Georgia lend a strong influence in his winemaking style. "California is a geological wonderland in terms of terroir, climates and altitudes, I believe we are working in the right places where we are farming sustainably, picking correctly and handling the grapes with TLC, I just let the wine make itself".
Eric divides his time between the winery in Sonoma and managing vineyards throughout Anderson Valley & Sonoma County. When taking time off, you can catch Eric watching the SF Giants and Golden State Warriors, plotting his next home cooked meal and spending time as "The Fun Parent" with Lord Sandwich. 
Current Likes: a new pair of boots, a happy Ali & new tires for my truck.
Current Dislikes: a dirty kitchen, overly-made wines, dishonest wines. 
Current Favorite Quote: "Carbs are the enemy", Goldmember.  
---