JULY 11, 2022 
"Don't get the popular circle confused with the winner's circle".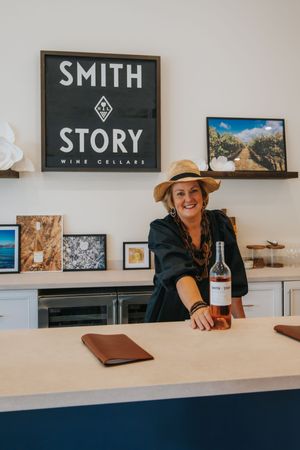 I think most of us these days could use a pick me up, be proud of where you are, where you've come from and stay diligent with your focus on the future. Own your success! These are the thoughts that began running through my head this morning after a very slow weekend and spring season in wine country. 
A guest recently referred to a nearby wine region as the "Top 40". Those wineries for the most part have a history of small beginnings, hard work, struggles and earned their easier road these days. 2020 either destroyed a small/new business or reset them for greater opportunity. 
As a nearly 20 year entrepreneur in the wine business, I remain excited about the road ahead. Smith Story brings real joy to others, we are reminded of this several times a day. 9 years later, we find ourselves in an incredible heartfelt time to be even more obsessed with the quality of our vineyards, wines, business partners and our inspirational and loyal customers. Chin up! Be Brave! - Ali Story 
---
July Promotions: 
Healdsburg Pick-up Only: 
30% off 2021 Smith Story, Rosé, Mendocino County 
Six bottles or more required upon purchase. 
Who doesn't love a $19.60 GREAT bottle of summer wine? 
Use promo code: summersix (upon check out). 
Select Healdsburg Pick-up as your shipping option. 
Expires on July 31 at midnight. 
How about 2 for 1 Smith Story Wine Tastings in July? Bring your friends to see us in Healdsburg. 
Reserve on Tock 
Use promo code: summerfun (upon check out). 
We keep the AC cranked to 68 degrees inside. Plenty of outdoor shade too. 
Expires on July 31 at midnight. 
---
HAPPENINGS 
July 15 & 16: Santa Barbara. Santa Barbara Wine Festival. Thrilled to be among this beautiful beachside wine festival. Ali's pouring on Friday evening at the "Sunset Rare and Reserve Tasting" as well as Saturday's wine tasting at Chase Palm Park. Tickets available via the Santa Barbara Wine Festival. 
July 21: Thursday is Industry Night at Bacchus Landing. We're open and have a fun tasting lined up for the wine trade. We'll get started at 4:30pm and one lucky guest will win a Smith Story "summer wine 6-pack". 
AUGUST: 
BLIND SUNDAYS: August 7 begins our first "Blind Sundays" in the tasting room. Four wines will be placed in bags for us all to flex our wine education muscle. Wines are pulled from our personal cellar and a blind tasting will be set up every Sunday. We encourage you to stop by to sharpen your wine knowledge. We're also lining up a handful of our wine importer friends to host in the coming months. $10 tasting fee. 
August 11-13: Beaver Creek, Colorado.  Roundup River Ranch. Smith Story is traveling to Vail mountain to continue our support of the Roundup River Ranch, hosting a private dinner with generous Storytellers. Also, Saturday August 13 catch us hosting a mountain top tasting after a hike and pouring at the Grand Tasting that evening. Tickets and details coming soon for the Beaver Creek Wine & Spirits Festival. 
PLEASE VOTE! For those of you who've been with us over the years, we're a proud winner of the USA Today Top 10 Best Wineries/Tasting Rooms. This year, Bacchus Landing Cellars is nominated, this is where we relocated and are asking for your vote each day this week on your devices. We hope to be among the Top 10 for this national exposure for the new place! VOTE HERE