So much to write about, so little time. This pretty much describes our entire life right now! After this weekend, only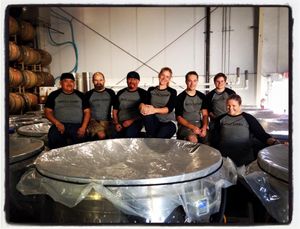 our Cabernet Sauvignon, Cabernet Franc and the Sonoma Mountain Sémillon and Sauvignon Blanc are left to crush. This harvest has been exceptional for Smith Story Wine Cellars, beautiful fruit, great weather and a very positive and hardworking crew at the winery.
Not much to complain about...well a few things I suppose. Running a winery, starting a new brand, building everything from the very start certainly has it's challenges. We are blocking and tackling each situation with all our might, however, we've (particularly Ali) has had to grow another layer of thick skin. Why? Weird jealous so-called friends and a few who view us as "new competition" (whatever!). These are winery folks whom we've adored, developed business for, shared bottles and traveled with over the years but now have chosen to ignore us. Feelings hurt - sorta. Head held high - yes. Do we now know who are real friends are in this industry - yep.
We're gonna chalk this up to the "Bless Their Hearts" category and move along. But as for that certain wine buyer who refused to even taste our wines because Eric's spent his adult life working for one of the best wine retailers in the nation, well you self-entitled asshat can go jump in the lake.  Ok, now we feel better. Maybe it's this heat wave of triple digits going on Day 5 now, but letting off a little writing steam feels good. 
More to report soon, we can't thank you all enough for following Our Story and cheering us on! 
Love, Eric and Ali