Fabulous to see our 2019 Smith Story, Helluva Vineyard, Pinot Noir, Anderson Valley featured in the Wall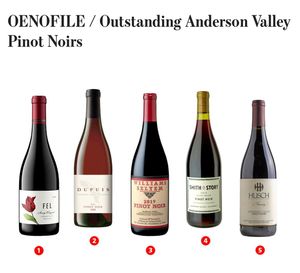 Street Journal. The WSJ Wine Editor visited with us in our new tasting room a few months ago. Lovely to taste with Lettie and catch-up, we hadn't seen each other in person since 2018. 
Our move to Healdsburg from the Anderson Valley was very organic. The opportunity to be located on the legendary Westside Road inside the incredible new Bacchus Landing was a dream come true.
The pandemic presented a new layer of challenges for our small winery, but we were NOT forced to move, it just felt right and the opportunity to be closer to civilization presented itself. I corrected this statement with the WSJ fact checker, but obviously didn't change in the article. Also, we are NOT located in Sonoma, we are smack dab in the middle of Healdsburg, California which is located in Sonoma County. The town of Sonoma is about an hour south east from us, where we produce & cellar our wines. 
It's always sensitive when a national publication interviews us.  The press has been very kind to us over the years. A few misses, but we'll take the gut punches with the high-fives. 
WORD OF MOUTH is what propels our family winery, we ask that you continue to share our wonderful wines with your best of friends and our story. It means the world to us. 
- Ali Story