Reposted from our September 16, 2022 email. 
Good morning from a chilly morning in Healdsburg. What a difference from this time last week battling the "heat dome". Eric is in the Anderson Valley checking on our pinot noir, we're thrilled to have the Filigreen Farm back in our family portfolio. If you were with us a few years back, we made a beloved Pinot Gris from this biodynamic farm in Boonville. 
The Art of Spontaneous Wine Tasting 
Dusty and I are preparing for a somewhat busy weekend ahead in the tasting room. There's been a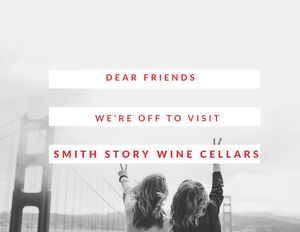 fair amount of media buzz lately about how quiet it's been this summer in wine country. A few reasons why but one I feel most strongly about is the lack of spontaneous wine tasting! 
Along with most wineries Smith Story moved to reservations in 2020 to control guest counts and manage a healthy tasting room environment. Now that county restrictions have ended, our doors are open. We still prefer a reservation to help with planning, but we welcome new discovery of Smith Story Wine Cellars. The fall harvest season is simply the very best time to visit here. Oh the fermentation smell in the air, the chance opportunity to taste fresh pressed grapes or taste a grape off the vine. It's a interesting and stunning time. 
What's it like at Smith Story? 
When you arrive at Smith Story Wine Cellars, expect to be greeted by our sweet Lord Sandwich who eventually takes a back seat while we pour current wines such as our 2021 Rosé, 2021 BRAVE Carbonic Syrah and quite likely our 2017 (90 case production) Pickberry Vineyard Merlot from Sonoma Mountain. Tastings are $25pp and $45pp if you select our special Library Wine Tasting option. Blind Sunday tastings are $10. All complementary to Storytellers. You may select seating inside on a comfy couch, swivel leather chair, table for 6, at the bar or relax outside in the Smith Story Wine Garden. 
Tasting Room Hours: Thursday-Sunday 11-5pm (last tasting is 4pm however). Wednesday is strictly appt. only at this time. The Smith Story tasting room is open for shopping without reservations of course, will-call orders for Healdsburg pickup is an easy selection when ordering wines online too. There continues to be a very curated collection of vintage glasses, decanters, books and a new books as well.  For years now our humble room has been full of wine country treasures for gift giving.  We always help cart wine cases out to your car too. 
As a reminder... 
2022 Smith Story Fall Wine Release ends on September 30.  Looking for a savings? Easy to join the Storytellers online anytime. 
This blockbuster trio is now allocated to non-wine club members.  Allocations are provided once you login to your profile on smithstorywinecellars.com 
2019 Smith Story "The Boonies", Pinot Noir, Anderson Valley. 150 cases. 
2019 Smith Story, Cabernet Franc, Sonoma County. 160 cases. 
2019 Smith Story, Pickberry Vineyard, Sonoma Mountain. 290 cases. 
Saturday, October 1 from 12pm-5pm is our Fall Wine Release pick-up day. A casual come and go afternoon featuring a splash of the new releases and a few tasty bites. Please RSVP.  Complementary to Storytellers, $25pp non-members. 
SIMPLE NEW LOGIN REFRESH 
Smith Story Wine Cellars has now completed a new e-commerce software migration and added the payment options such as Google and ApplePay. You will need to reset your password. Once logged in, you can edit your password and all information regarding purchasing our wines and where you'd like them shipped or held. To reset password: 
Step 1: Click this link 
Step 2: Enter the email we have on file 
Step 3: Check your email for 'Reset Password'. Click the button in the email to access your account. 
Once your account is set and updated, it's easy to access by visiting the website anytime and clicking on your name in the upper right corner of our homepage. As always, feel free to email us directly, if you have any questions. Storytellers...please update your credit card info (as of 9/14/22 about a dozen needed updating) once logged into your profile. 
Take me to my blockbuster 2022 Smith Story Fall Wine Release! 
BLIND SUNDAYS 
Join us every Sunday from 12-4pm to test your wine knowledge. We've had a blast pulling three bottles each Sunday from our personal cellar to pour blindly (in addition to our regular tasting offerings). August Blind Sunday's featured Grand Cru Beaujolais, Sancerre, Pouilly Fumé, Red Burgundy, Argentine Pinot Noir & Carbonic Wines. Sunday the 18th of September,  "Kings and Queens of the Russian River Valley" is the theme. $10 tasting fee, complimentary to Storytellers. 
Peace and love, 
 - Ali Story 
PS...I'll be in Dallas on October 19 to host at dinner at Boulevardier, tell your friends, bring your favorite ones and let's pack the place!