Oh we have so much love for dogs. Today (#nationaldogday) is great fun on social media to chat about
Lord Sandwich
and explain the meaning of the letters
H & L
on our label and logo. However, the day also has us thinking of how far we've come from exactly one year ago, a Top Dog we dare say!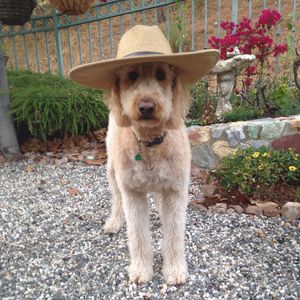 One year ago, we were in the final stretches of our Kickstarter Campaign, Ali flew home early from a work trip to begin harvesting our first 2014 grapes and we were also in the beginning stages of working with a private investor. All these things have worked out - and worked out well!  In 12 months we've hit a few milestones for our small and brand spanking new winery...
*Smith Story Wine Cellars produced and bottled approx. 2000 cases of wine.
*We've hosted near 50 private tastings for our mailing list and wine club member since March.
*Our wines are now actively selling through our wholesale partners in NY, NY, PA, CO, TX and CA. 
*The Sémillon and Rosé of Pinot Noir sold-out within weeks of release. Riesling, Chardonnay and Helluva Pinot Noir soon to be gone too...
*We moved our custom crush location to a winery shared by only 4 wineries this year! 
Feels pretty awesome and we don't use that word too much. Do we still go to bed scared every night? You bet we do! Remember - "we bet the Farm", the winery is our present and future everything.
We know our work is never done, the "to-do" list is longer than ever before for our small business. Thankfully we also live in the land of extremely good coffee. Looking back, we are so glad we had the guts to start Smith Story Wine Cellars...now it's up to our loyal supporters to keep spreading the good word. Our wines do all the talking, we are so very grateful to know they are being enjoyed all over the world already!!! 
Here'e our 
Harvest 2015
update which was sent to our mailing list members earlier today. 
Thank you for being a part of Our Story, we mean this with all our might. 
Love,
Eric, Ali and Lord Sandwich